'

I succumbed to yet another beauty box subscription -- the Blush! Mystery box is a lot more expensive than Ipsy, but has substantially more products.
(picture missing one product that came in the box -- a deluxe sample of B.Kamins BB Cream)
So far, I absolutely love it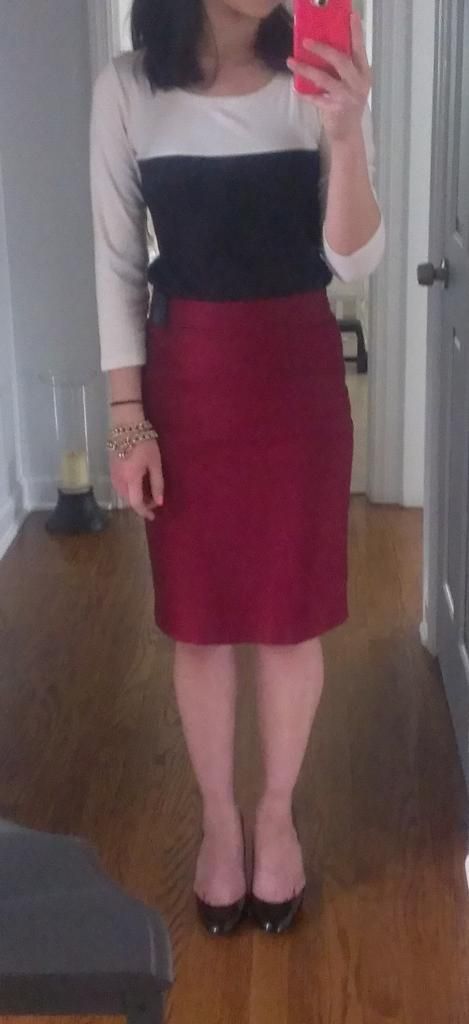 Pencil skirt again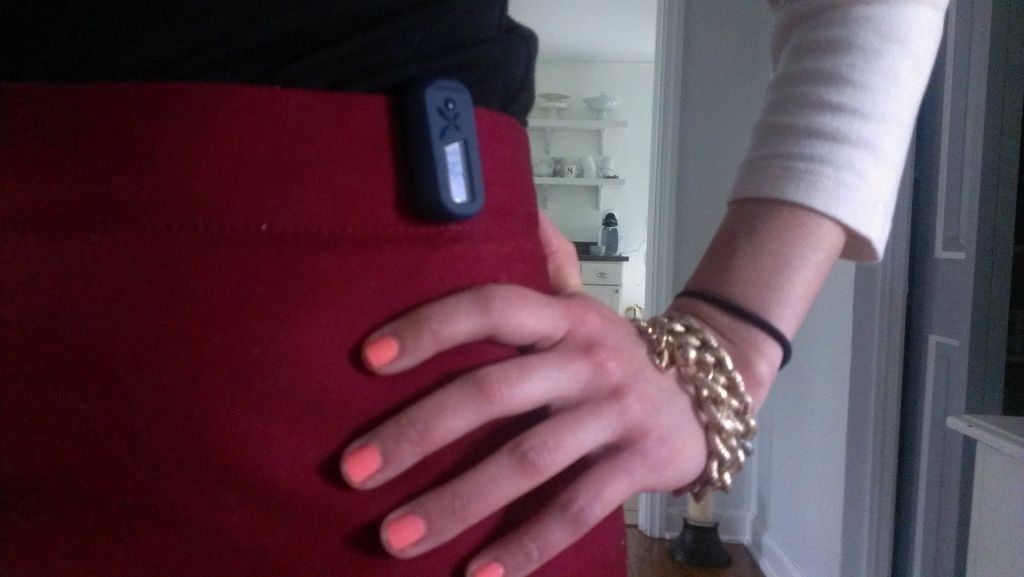 With my blush! Mystery box goodie (Skylark nailpolish in Jelly Shot) and the very chic GCC pedometer (which has gone through quite a lot of adventures in the past week--- including being dunked into the toilet)
One of the full size products in the May Mystery box is the newly released
Skylark Nailpolish set in Wild and Free
-- the line is by YouTube beauty gurus, Elle and Blair Fowler (Elle being one of my Youtube beauty guru favorites - love her!)
About the product:

"Inspired by the hottest trends of 2013, Skylark by Elle and Blair Wild and Free Mini Nail Lacquer Set offers 4 fabulously chic shades perfect for spring and summer! From muted tangerine and lavender to mint green, pale grey and opaque nude-pink, these fashion-forward polishes will add the perfect touch of flair to any outfit. Even better, they promise a smooth finish that's resistant to streaks and chips"
I don't know about being resistant to streaks ---- I had to use about 5 coats (2 thin, 3 thick) to get to a finish that was smooth and opaque. However, the drying time is ri-dun-ku-lous! I lost track of how many manicures I've botched because I got impatient -- these dry within a minute, even with multiple thick coats. So it was definitely not a painful experience at all.
As for being resistant to chips -- it survived pretty well after a vigorous cleaning session in the kitchen last weekend, so I am pretty impressed with it.
The price point is slightly too high, though, in my opinion -- I would never have bought this on my own. But include it in my subscription box that cost less than the listed retail price for the nailpolish? I am there!
Shirt - J.Crew Perfect fit Tee
Skirt - J.Crew no.2 Pencil skirt in double-serge cotton (2012 color)
Shoes - Ann Taylor Perfect Patent Pumps
Bracelet - Forever21 necklace