I have been wanting a pair of non-black, non-blue, non-brown, non-gray pants for awhile now. But I have found that those non-colors have a tendency to make my stumpy legs look like stumpy sausages.
Flipping through the latest J.Crew catalog and mentally making up my "I WANT" list, I decided to try out the
Minnie
pants. Touted as the pants that will flatter everyone, I wondered if it included short stumpy me.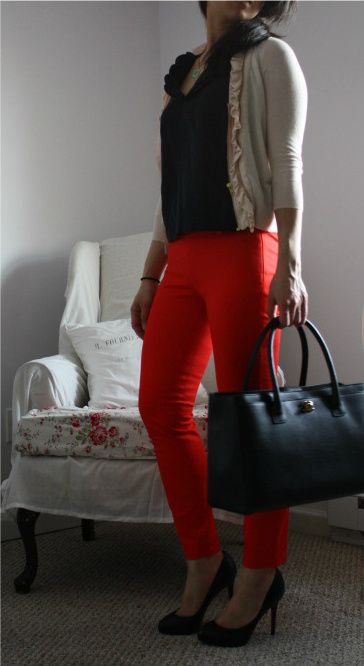 I like them. They may not necessarily look the same as the darn model, but I think it's passable. And will be even more so once I finally work on fulfilling my promise to start up yoga and running sessions again!
I ended up with a regular size 00. Typically a size 0 in skirts, the size 0 in these pants were slightly loose on the waist, and I was afraid that it will end up stretching out to baggy bums as the day wears on.
The length hits right at my ankle (I'm about 5'4", with a longer torso). I am now curious on the petite sizing.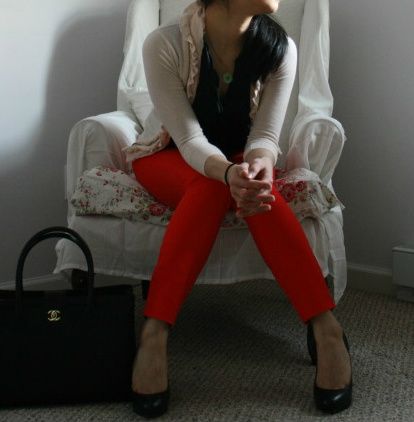 This is probably the first time I bought something from J.Crew at full price, with no coupon code whatsoever. I got tired of waiting for one. I may end up getting the other colors if it goes on sale.
Cardigan - J.Crew Factory
Shell - Talbots
Pants - J.Crew Minnie twill in Vibrant Flame
Shoes - Christian Louboutin New Declic 120mm in black kid leather
Bag - Chanel Cerf with GHW