Most often, I would buy variations of items that I love.
For beauty, that would be brown/nude eyeshadows, black eyeliner, and red lipsticks.
I have a healthy amount of lipsticks. They are my go-to section when I am overcome with need to make an impulse beauty purchase. And because I usually gravitate towards the drugstore brands, it isn't so hard on the wallet.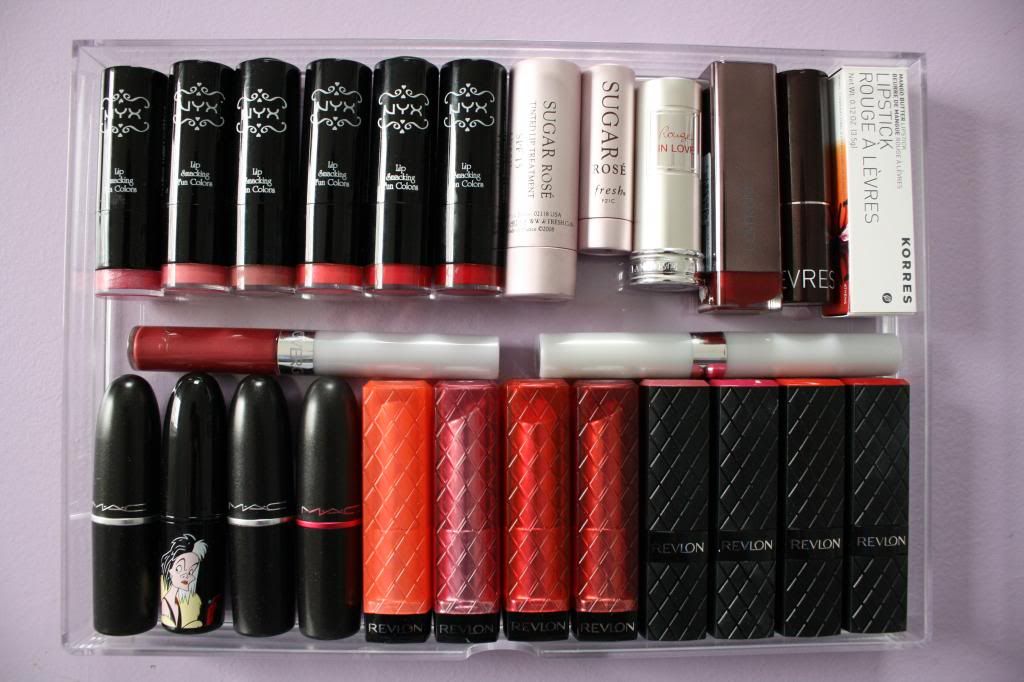 Majority of my current lipstick collection
The best red for me veers towards the brighter side. Simply because my skin tone is towards the darker end for being a Chinese/Asian (milky white skin that looks like porcelain is the ideal), putting on a darker lip color tends to make me look a bit too gothy for my taste.
But there are some exceptions, as I found out simply by trying it out once in a while...

Covergirl Lip Perfection in Everlasting Immortal - My latest impulse purchase that is currently 50% off at CVS. I had a coupon for $1.50 off, making it a grand total of $2.65. It is a brighter version of my favorite long-lasting deeper red, the CoverGirl Outlast in Timeless Ruby. Long wear, not budge-proof, however.

Covergirl Outlast in Timeless Ruby - Hands down one of my most favorite lipstick that I have. It is a gorgeous color that instantly makes me look more chic, it is long-wearing, fantastically budge-proof, it is easy to apply and control, and I got it also for 50% off.
Revlon Lip Butter in Red Velvet
- I want to like this, but the shade is definitely teetering on the edge of being a flattering shade on me, to making me look like I am an undead. Especially if I wear black eyeliner as well. If my complexion was fairer, it would probably be beautiful. This is the darkest lip color I have.
MAC Viva Glam I
- My very FIRST red lipstick ever. I remember going to the MAC counter a few years ago, a few months after the break of my marriage when I was still feeling woebegone and vulnerable. I wanted to make a change to my appearance--do something I've always wanted to try but never dared before...typically, the kneejerk response for women is to get a haircut, but since I'm pretty much an old pro when faced with bad hair decisions (I
do
cut my own hair after all), it was to the makeup counter I went. Now that I have a whole host of other options to choose from, I haven't used this lipstick in awhile. I think that it is actually too dark for me anyway. But I believe that this is the one lipstick that I will always keep, as a reminder for when faced with adversity, and when feeling like your whole world has been rocked off its axis, that all one has to do is to be brave (and rational) enough to change with it. Live and adapt is pretty much my motto these days.
MAC Ruby Woo
- A matte, true red lipstick. I like it, but for the fact that it is not budge-proof. It will color-transfer to anything that it touches. Not a good thing for someone who has a habit of resting her disposable coffee cup lid on her chin when thinking at work.And then sit through a meeting with her manager with a red stain on her chin. ALWAYS LOOK AT A MIRROR!
NYX Chic Red - My favorite true red. It is easy to apply, has a matte finish, long-wearing and is budge-proof.
Lancome Rouge in Love Sequence of Love (170N) - My favorite bright red, although I don't wear it often. The finish is shinier than the NYX. It is a long-wear lipstick which is good, as it annoys me to look in the mirror at the end of the day and see only a staining on my lips, like I've gone through a looong night and am walking the walk of shame.
Revlon Lip Butter in Cherry Tart - It's ok. To be honest, I'm not a huge fan of these lip butters---not to the point where it is in my absolute must have list. It is moisturizing though, so that's a pro.
Revlon Colorstay in Coral - The Colorstays were my original go-to lipsticks. The color is beautiful, a good dupe for the one used in J.Crew catalogs (they use NARS Heat Wave, I think). But I don't know..I just don't reach for it much anymore. Long-wear
Bombshell lip gloss in Hot Mess - This came in my December Glam Bag -- Love the color...although it does wear off relatively quickly, and reapplication is a must (to avoid said walk-of-shame image mentioned above) But it is easy to swipe on and go. Lipglosses always are more foolproof than lipsticks.
MAC lip pencil in Cherry
- Originally purchased to wear with MAC Wicked Ways (the Cruella deVil lipstick from the Venomous Villains collection), it is my magic lip pencil that can be used with any one of the above mentioned lipsticks -- blending is required with some pairings, but for the most part, it does the job. So I don't have to purchase a dozen variations of red. Which makes it a little cheaper when I impulse shop.