I finally joined the bandwagon and joined a monthly makeup "club" in December last year
I chose one that was created by Michelle Phan, YouTube beauty guru extraordinaire called GlamBags..or perhaps it's called Ipsy....hmm...I'm not really sure, but the site name is
ipsy.com
I liked my December glambag, but the January Glam bag blows it away...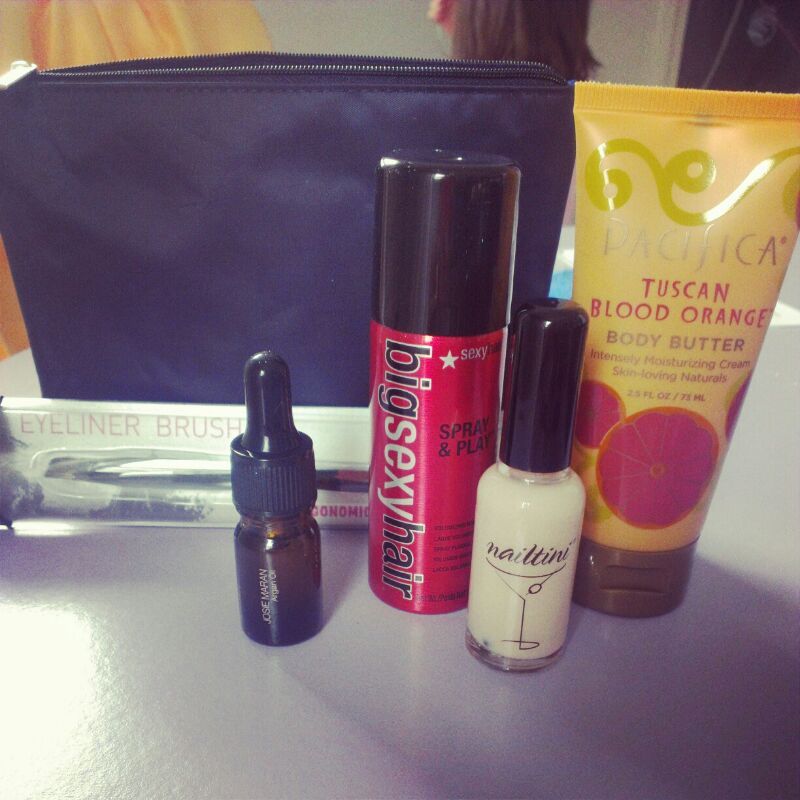 Makeup bag - Every month's offerings will come packaged in a make-up bag. There'll be different bags every month. This one has a pretty blue star lining -- nothing ridiculously special, but my daughter is thrilled to have a new bag to play with
Nailtini nailpolish in Frappe
- this is a full size product -- got it in a gorgeous milky pale
orange-popsicle shade
(edit - goes on like a sheer pale pink actually...I am apparently color blind) called Frappe
**Retails $13**
Big Sexy Hair Spray & Play
- it's hairspray...I don't really use hair products, so I wouldn't know how much this will be used. But it's a good size.
**Retails ~ $6**
Josie Maran Argan Oil
- I was really excited about this one and have been wanting to try it for a long time now but have never taken the plunge.(although now that I have the actual stuff in front of me, I am pretty excited about the lotion -- gosh, I LOVE the scent..and I'm not even a fan of citrus. It smells so creamy...like orange frozen yogurt...I'm noticing a theme here)
Soho Beauty Eyeliner Brush
- I believe that there were different brushes that was sent out, so it is the luck of the draw which type you get -- I'm running out of my liquid eyeliner and was looking for a replacement ... but I have a cream eyeliner that comes in a pot that I've hardly use because I didn't have a brush (didn't like the free one that came with it) so this may be the best way for me to start using it. Excited to try.
**Retails $8**
Definitely very happy with my bags so far.
Looking forward to February!