My daughter's daycare had a holiday pageant tonight, so I had to wear something somewhat more presentable than the jeans and sweatshirt that I like to hibernate in now that the temperatures are dropping fast (snow in the horizon!)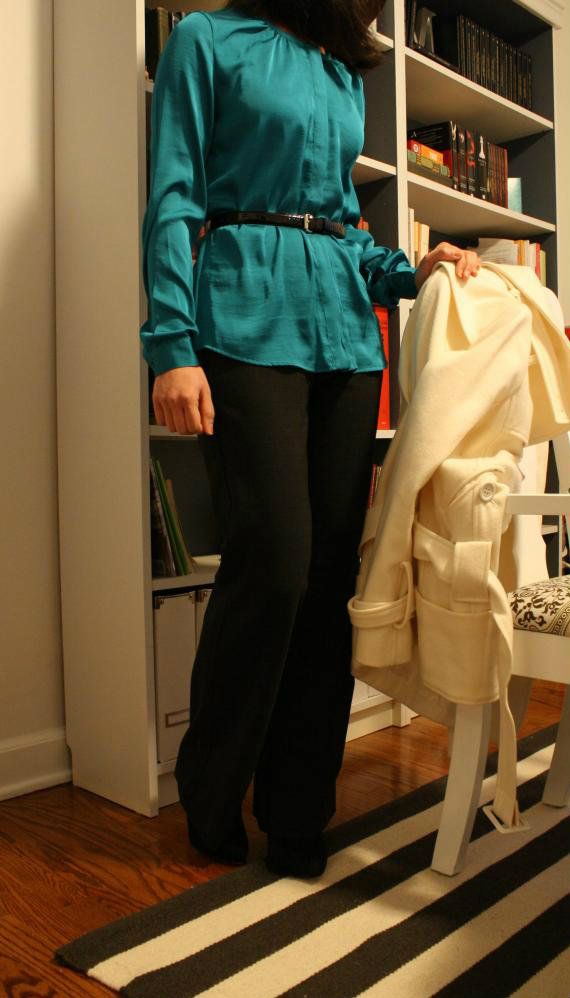 Shirt - Forever21 (it is an emerald green, but the lighting in the photos is making it look teal/blue)
Pants - BCBG
Coat - Coffeeshop by Nordstrom
Belt - Ann Taylor
As I reached for a shirt, I remembered seeing something on Facebook about how green and white are Sandy Hook Elementary School's colors, and to wear it in honor of all who have passed.

I am a mother in Connecticut whose child will be enrolled in school next year....one can't help but imagine, what if it happened to us?
Seeing the photos of the children who were victims of this senseless act was the most heart-wrenching of all...all their sweet faces, all those bright futures...extinguished in an instance.
I went for Mass one Sunday a while back, and during the service, the deacon touched upon how James and John asked Jesus to let them sit on His right and left hand in His Kingdom.
And Jesus replied To sit on My right hand and on My left is not Mine to give, but [it is for those] for whom it is prepared by My Father.
The deacon went on to philosophize about how perhaps it is the children whose life was ended too soon who were given the honor of sitting next to Jesus. And somehow, that thought is comforting.
Because despite the tragedy that has struck, and despite the horrific fact that all of these children...babies, really, were slaughtered in cold blood...To know that they have gone back to God, and are now in a safe place where there's no fear, nor sorrow, nor pain...that thought, provides some comfort.
To those who are suffering through the pain of this tragedy, the thoughts and prayers of millions are with you.