White pants after Labor day?? Say it isn't so!
Ah well.
This is an ode to sale items from J.Crew --- they are still running the additional 30% off sale items online using code MUSTSHOP, so I am going to include a review-type commentary for anyone who's pondering about the items that I took a plunge with.
Necklace - H&M
Shoes - Manolo Blahnik
Bag - Chanel Mini in 12A Red Caviar SHW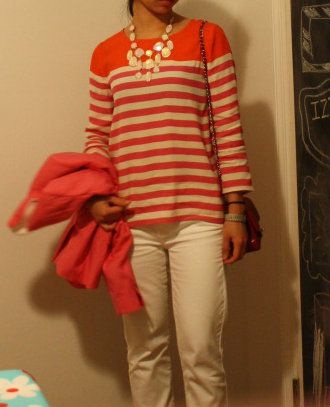 The colorblock top runs true to size, to slightly loose --- I'm wearing my normal size 0 here -- it has a relaxed fit, easy to slip on and off. The color says it's neon -- I don't think it is bright enough to be categorized in that grouping. I like this top --- and when I like something, I tend to buy multiple colorways...so the Festival Green is on its way to me (at a cheaper price, I might add, from when I bought this pink one. Darn you, J.Crew and your pricing strategy!)
Jeans are jeans. There are no True Religons, but I've wanted white jeans this past whole year, and I got these for $30. Can't complain. They are quite soft, so will have the tendency to show wrinkles as you go about your day. Sizing is consistent with the "high-end" denim brands (Joe's, TRs, etc)
I have a weakness for blazers. Probably because I grew up in a tropical country and there was no opportunities to wear them, unless I wanted to walk around, drenched with sweat.
This is my 4th Schoolboy blazer. Is it the perfect, tailored-for-me-and-only-me fit? Probably not. The waist-bust area could be improved. But as I said, I have a distorted view on blazers, and when I find something I like, I'll buy multiples (from sale)
The color is pink. Not bright, obnoxious pink. Just...a happy pink.And I have on a size 00, because they run big.
I seem to be in a very pink frame of mind these days.