Visited the city yesterday for a show, and went into Saks prior
And totally succumbed to an impulse purchase
Chanel Ballerines in Beige 51225
Only to find the SAME EXACT copy of the shoes in
J.Crew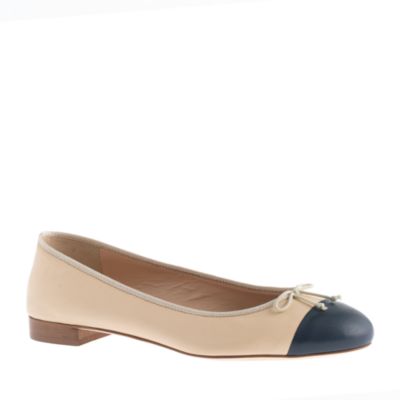 Without the coveted double C's, obviously.
But still...
Both are made of leather (soles, upper and lining), both are made in Italy...in fact, I took out my Chanels at the J.Crew store and held it side by side.....they looked identical.
But for the price. The Kiki's are a mere quarter of the price (with their frequent 30% off codes and discounts, they would end up 1/6 of the price...!!!!!!!) of the Chanel.
Whack me on the head and call me a sucker. Because I am keeping my new babies. Because they are gorgeous, classic and freaking Chanels (yes, I am a total label whore. I admit it)
But I will probably end up getting the black with beige cap-toes from J.Crew eventually, when they go on sale (as most things from J.Crew usually do -- at a regular basis)
Sizing on Chanel: I got them in an 8.5, which is my regular size in J.Crew shoes.