It has been awhile (to me at least) since I last purchased a bag.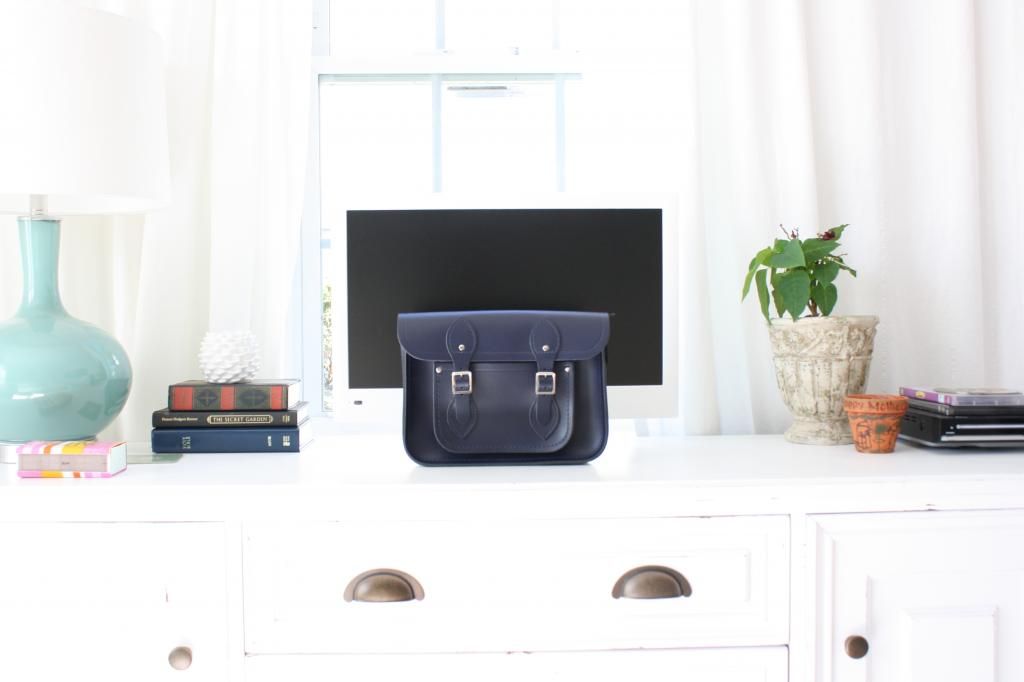 It didn't do terrible things to my credit card and I have been lusting after it for awhile ever since J.Crew started offering it in their Crewcuts collection.
(Yes, I do pour over the Crewcuts catalog because sometimes - a lot of times - those kids dress a lot better than I do)
My bag collection lacks a small sling-on bag that I can use for quick trips around town, or for occasions where I need both hands free so I can ride on amusement park rides without hindrance.
The Chanel mini was suppose to fill that void, but let's be honest...my heart will break if it got scratched, stained or squished out of shape while we hurtle down the track on a roller coaster.
It arrived from England less than a week after ordering, which I thought was impressive.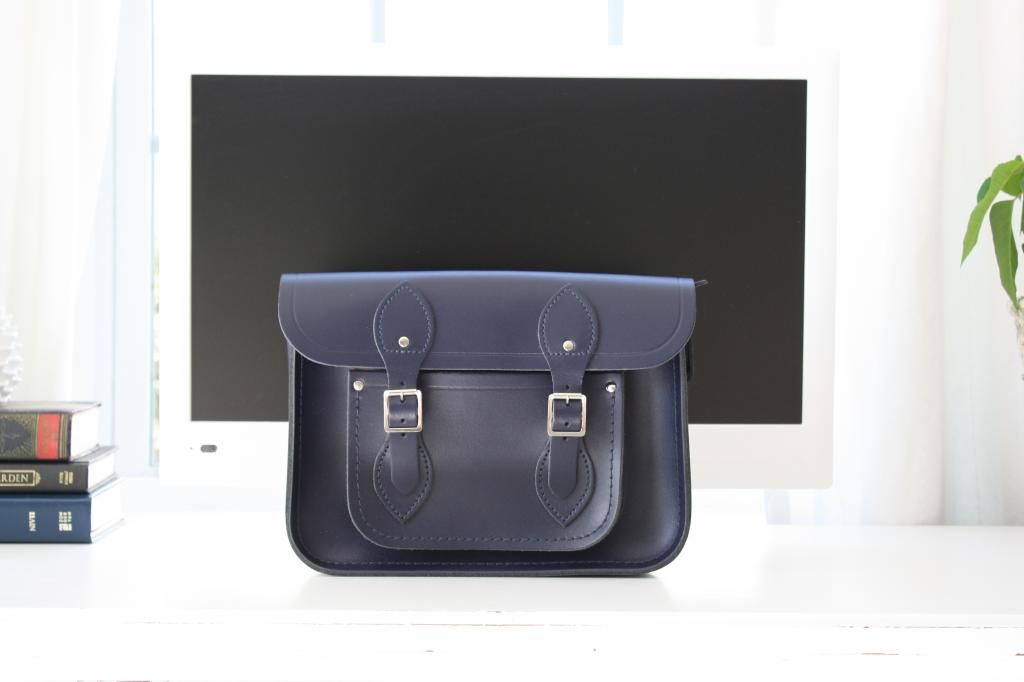 It is made out of somewhat stiff leather to give it its structure, with buckles to hold the bag close, and an adjustable leather strap. The Navy is a beautiful dark blue that looks black, depending on the lighting.
The exterior measures roughly-roughly about 11"x7.5"x2.25"
The satchel vs the Chanel Square Mini:
The satchel vs the Louis Vuitton Neverfull MM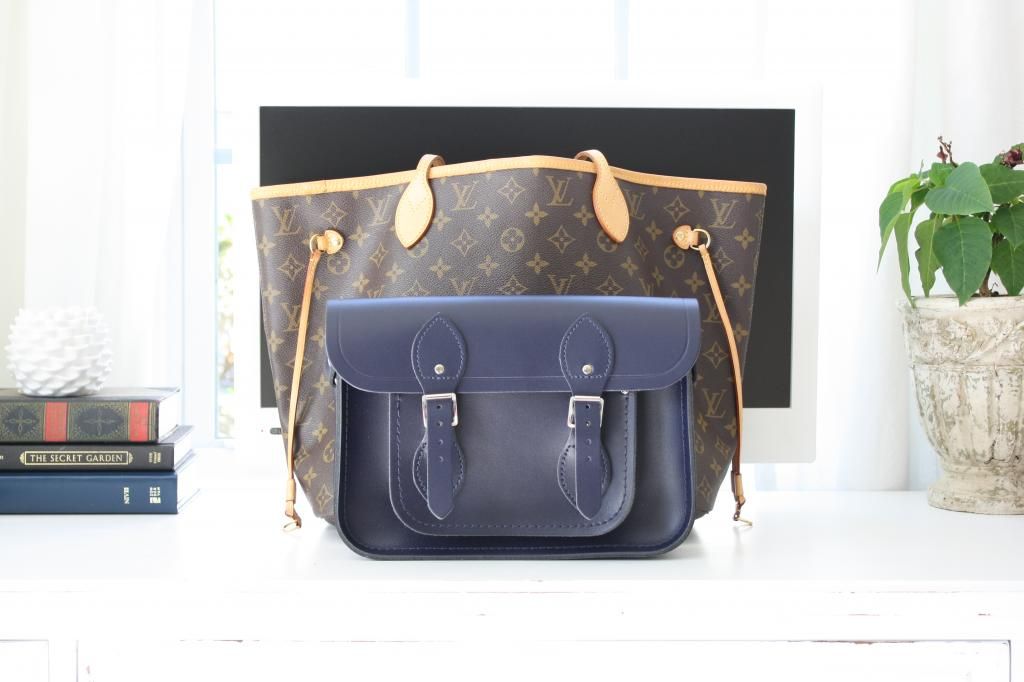 The interior main pocket measures roughly-roughly around 9.5" in length and 1.25" in width (at the seams. It is about 2.75" at the widest point in the middle of the bag)
Here is what I can fit in the bag -- not a good idea to use a long wallet in this bag, as it took up 90% of the available space ...I guess I just have to shop around for a small wallet =D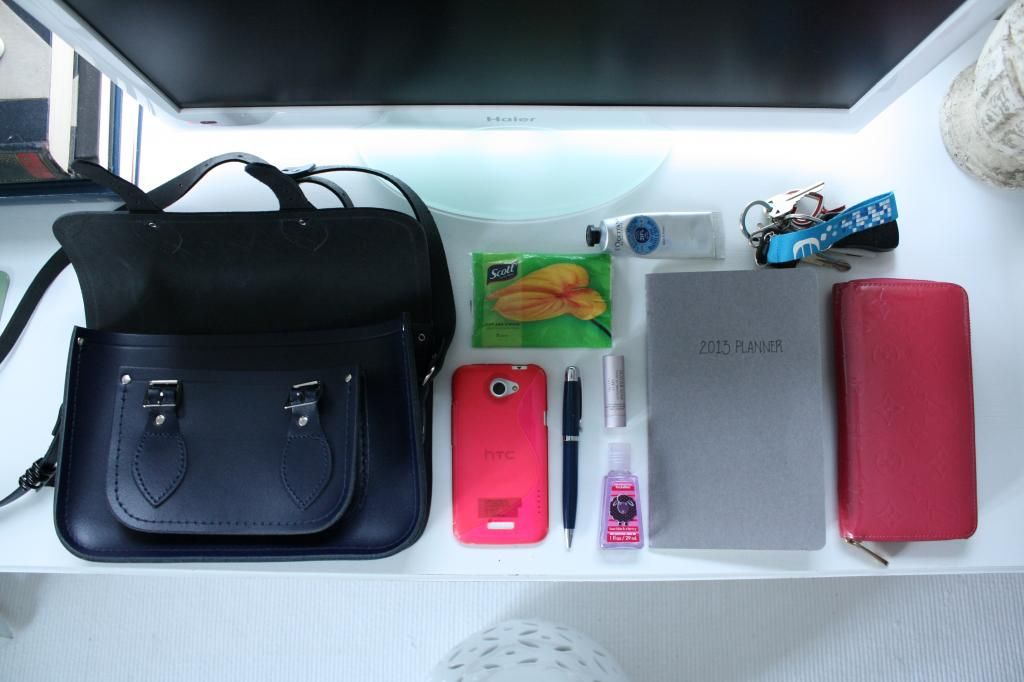 And because I found it amusing to try and see what can fit in the main interior, here are some normal everyday items that you may have lying around the house:
Two 16.9 fl oz water bottles
(laying on its side, on top of each other)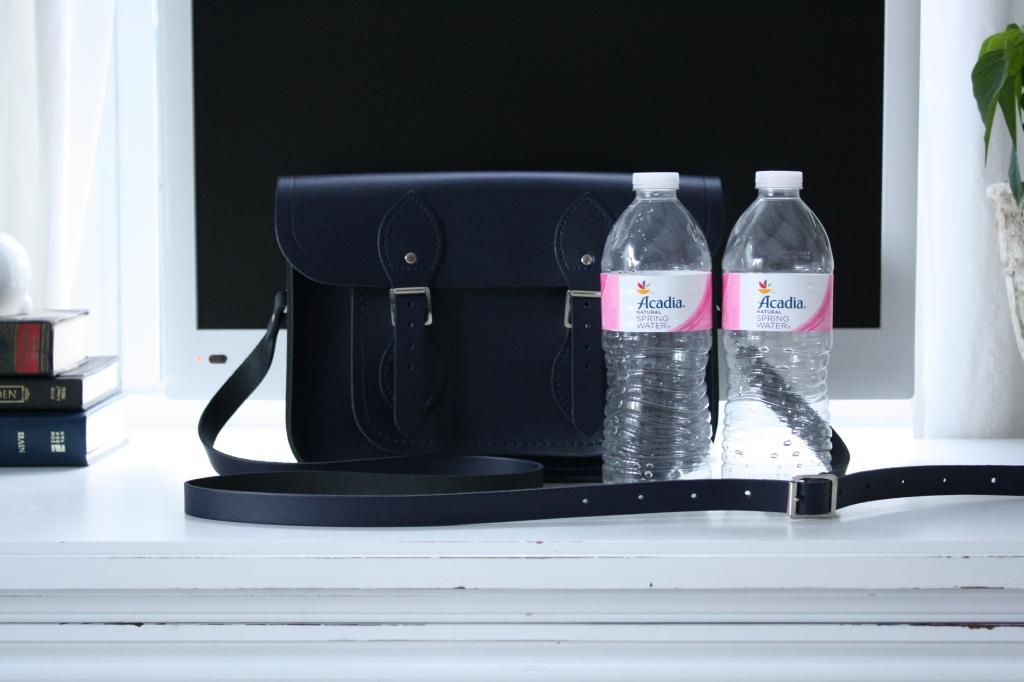 The paperback version of Eclipse from the Twilight series
(This was a rather tight fit. New Moon would work better as a perfect fit)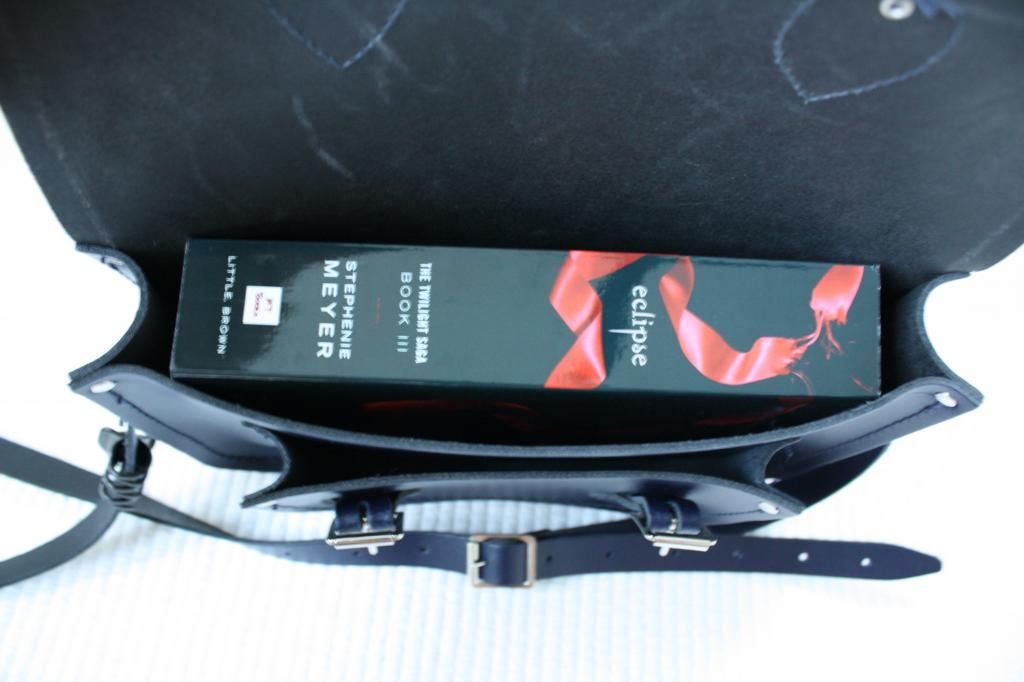 And if you have kids, three beanie babies...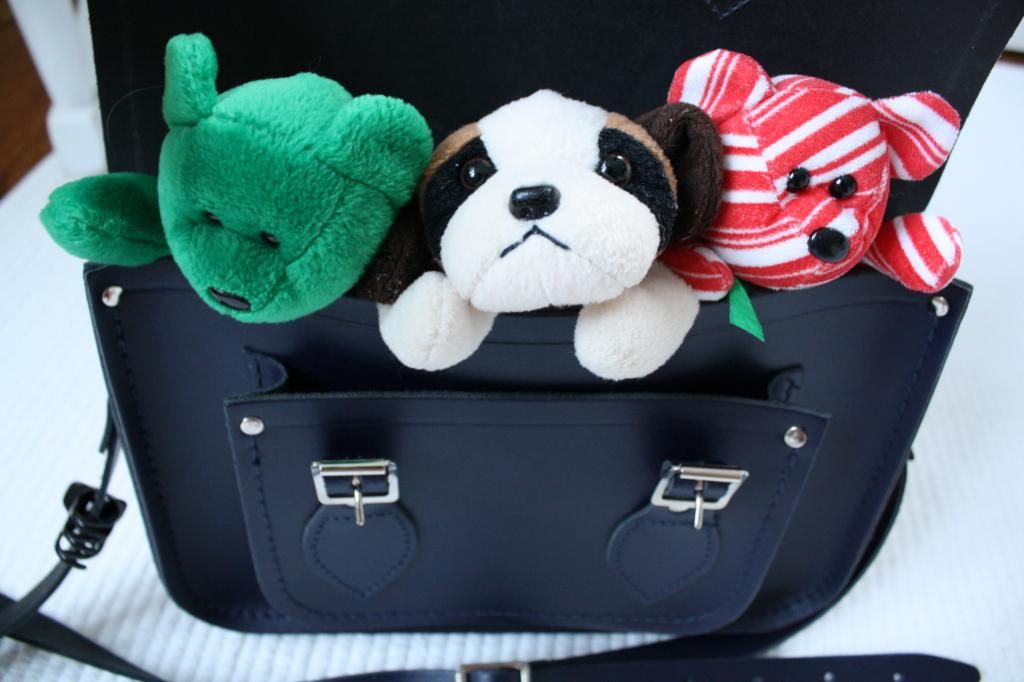 On me: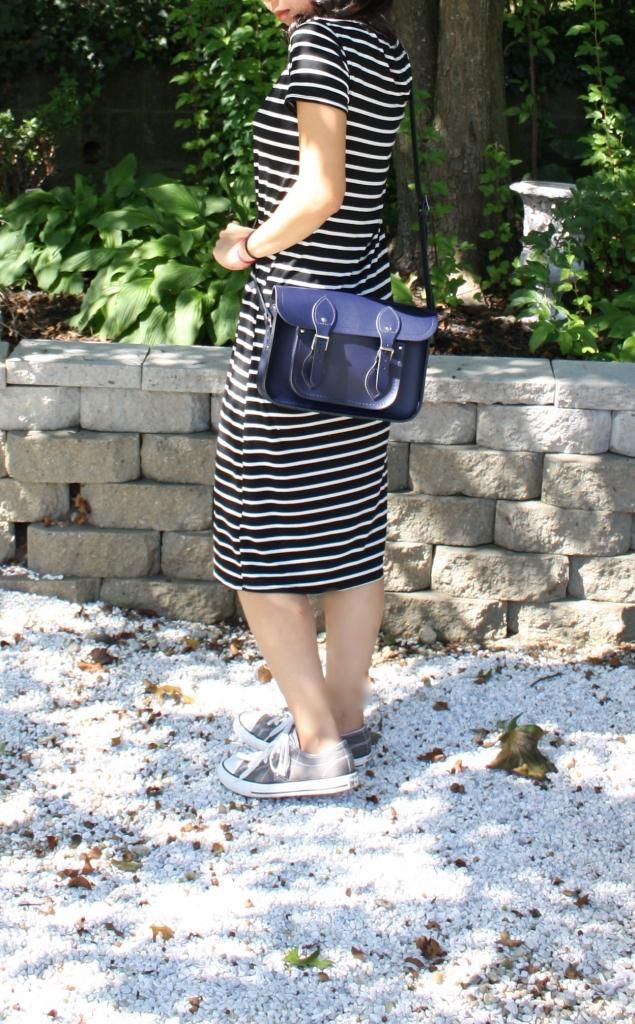 For reference, I am 5' 3.5", roughly about 115 lbs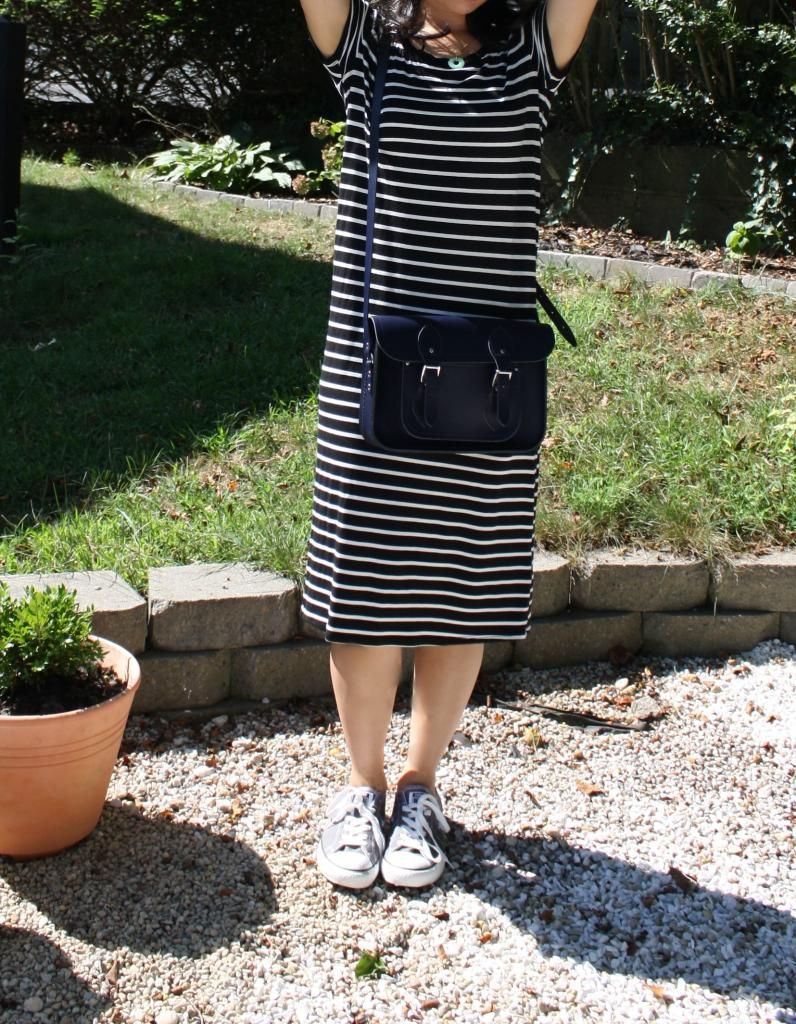 Pros:
- It is structured, giving a more put-together appearance to outfits
- Handmade in England, it is beautifully put together
- The leather is smooth and of good quality
- Adjustable strap that allows for cross-body positioning, or as a shoulder bag -- I suppose the straps could be tucked in so that it can be carried as a clutch, especially for non-petites.

Challenges:
- The bag is held closed with buckles so it can be time-consuming to open and close the bag
- The stiff leather that gives the bag its structure also makes for a very constraint opening. One has to be very precise in putting things in the interior for it to fit, therefore making it challenging to get things out in a hurry. I am hoping that with use, the leather would soften slightly and make this easier.
- Because I am vertically challenged, I would like it if there were more holes available to shorten the straps (at its shortest, it is way too long for my 4 year old -- I wonder if the Crewcuts version is adapted for kids)
Just as I am writing this post, I see that they have introduced a
Mini
version, at a mere 8.5" across. I did mutter an oath under my breath, but upon further reflection, I realize that while aesthetically, it would be perfect; functionally - it would be lacking, in an extreme sense
The main
Cambridge Satchel
site is also having a 10% off sale on certain items to celebrate back to school (the 11" classic included...grrr....), with free worldwide delivery. Use code "STUDENT2013" at checkout
Hope this is helpful to anyone who stumbles upon this post, looking for information