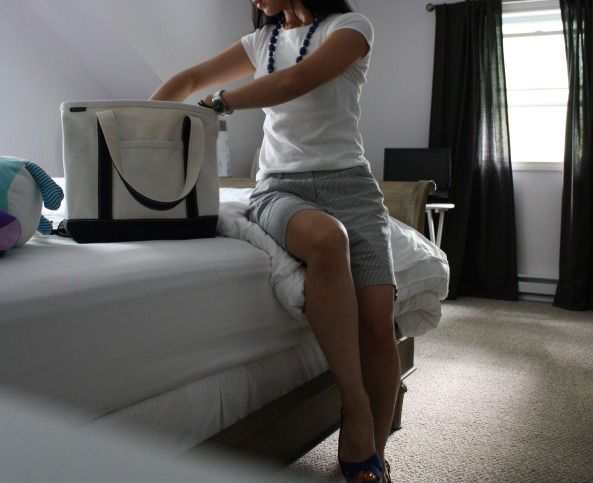 It is quite, quite challenging for me to get dressed during the summer. Because it is just so darned hot of the being-baked-in-the-oven variety.
But considering the fact that I am getting along in years (30 next year, say it isn't so!!), it's really about time I ease out of my short shorts and mini-dresses and into something more...age appropriate.
It is interesting that there are times when I can look like a freshman in college.
Not really the impression I want to give, especially with my 3 1/2 year old tagging along side me.
Top: Target (Kids section)
Belt - H&M (part of a 3 pack)
Shoes: Target - sale
Necklace: J.Crew - sale
Bag: Land's End - sale
So, here we are.

Bermudas.

The plight of those who are (un)blessed with short, stumpy legs on not-quite-petite frames.
I feel like I'm hanging in limbo in the in-between stage of not being quite short enough (nor small enough) to be considered petite, but still not quite meeting the minimum height requirement of regular-height Americans.
(In Asia, it's quite different....I'm probably gargantuan in Asian standards. I'll be lucky if I can squeeze into a Medium.)
These 10" Land's End petite version of the bermudas seem to do ok -- although I think I would prefer it if it were a teeny bit longer...but not enough for me to bust out my sewing machine (which is sitting gathering dust in the closet).
It is SLIGHTLY reminiscent of mom-pants, with a slightly higher waistline that I am used to...I am hoping that the cobalt-blue accents will throw the scent off.
Everything I have on was bought for $15 or less.