Hello, summer!! And reader(s?)! It's been awhile since I posted -- when the weather has been as gorgeous as it was for the past few weeks, I can usually be found in paint-splattered shorts and a grubby tank as I work up a sweat in the yard. Definitely not post-worthy.
Tunic - J.Crew Big Apple Tunic
Shoes - Manolo Blahnik BBs in Blue Suede
Necklace - J.Crew Monotone Beaded Necklace (Orange?) -- can be found in other colors here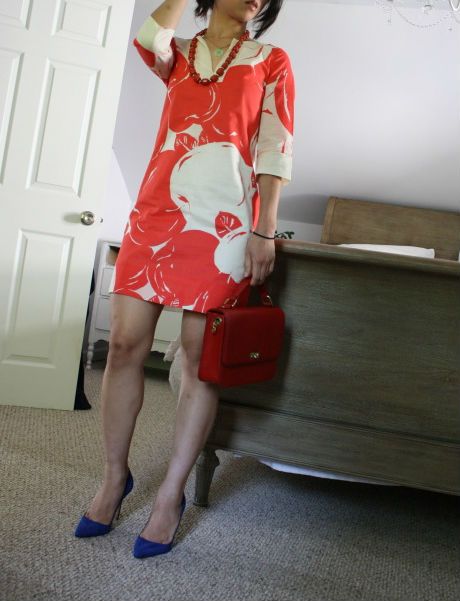 I've been contemplating the dress for awhile now, ever since it first appeared on the sale rack (I'm a sale shopper, what can I say)
But at first cut price of $99 (original about $150, I think), I couldn't pull the trigger, so I decided to wait. Recently, JCrew had 30% off sale at their stores, so I flew over at lunchtime to check it out. And there it was, marked down 50% from original price, with additional 30% off. It's still not a super-deal, but sizes were running out fast. I'm wearing a 00, because they were out of my regular size 0.
It does wrinkle easy though. But it's very pretty.
I can see it dressed up with Loubs and a clutch for a summer wedding, or with T-straps, a strawhat and a boat tote for casual running around in the summer.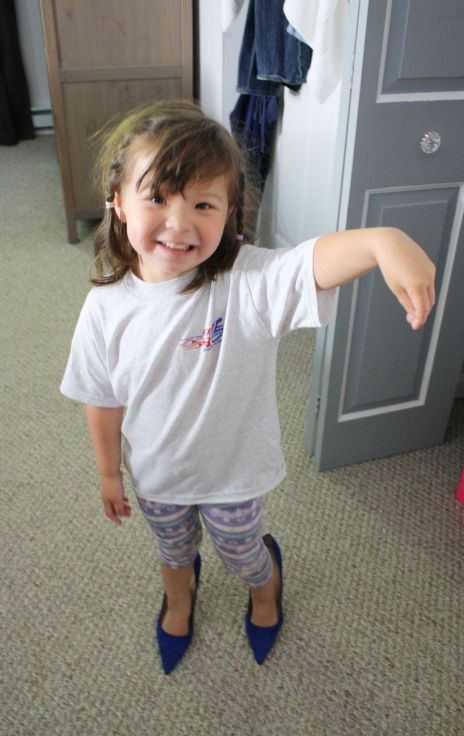 T-shirt - free from a sponsored walk
Leggings - hand-me-downs
Shoes - Manolo Blahnik BBs in Blue Suede
And of course, when my kid saw me take the shoes out of the box, she scrambled out of bed and asked "Can I try them on for a little while, momma?"