I have been missing for awhile now, due to uninspired clothing combinations and just general laziness.
But I was in the vicinity of a J.Crew last week while traveling for work in Ann Arbor, Michigan, and with the lack of better things to do in the evenings, went to explore.
And tried on
these pants
because they looked cute and were on sale for $39.99 + additional 30% off.
(Retail price of $135, online sale price of $89.99 -- which leads me to the thought of NEVER buying anything from the online site unless it is from their staple collection - i.e.
navy schoolboy blazer
- which never goes on sale, or unless you are desperate and can't find it anywhere else)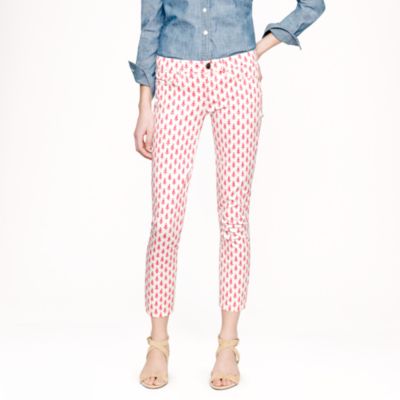 Back to the pants -- I proceeded to be amazed at how flattering they are considering the fact that I have issues with pants that flatter in general (short, stumpy legs --- there's only so much one can do for them, short of cutting them off and replacing with more...leggy versions) and for them to be white AND flattering -- IT could only mean one thing - SOLD!
They are cheery, fits true to size, does not stretch out to give you a saggy bum at the end of the day and I felt like I have managed to fake the look of somewhat-skinny thighs without having to resort to a solid month of yoga. They are "cropped", which to "normal people" like me, meant that they are ankle length and therefore won't have to go through the hassle of hemming.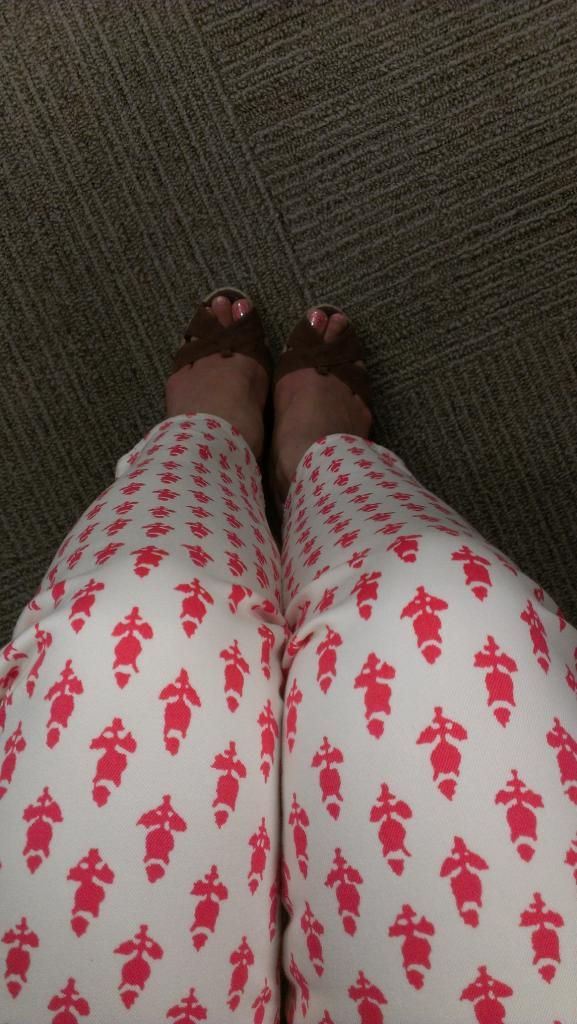 Plus the print also serves as a camouflage if your lunch happens to splatter all over you.
Disclaimer: Please don't expect my legs to look like Gisele's..or even like the model picture from J.Crew's website above (who I actually think needs to consume a bar of Green & Black's milk chocolate in one sitting...everyday...for a whole month)
When I say flattering and skinny thighs as it relates to me, it means that I don't look like a squat troll who consumed a bar of Green & Black's milk chocolate in one sitting...
Every day...
For a whole month.
(Now I am feeling self-conscious and riddled with self-doubt, dammit)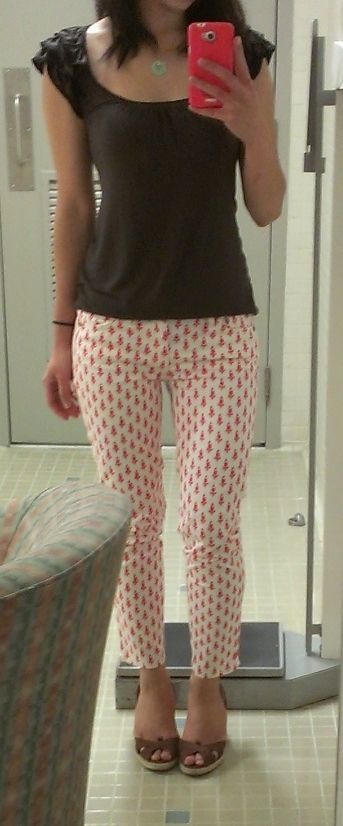 Shirt - H&M
Pants - J.Crew cropped matchstick jeans in Thistle print
Wedges - Banana Republic