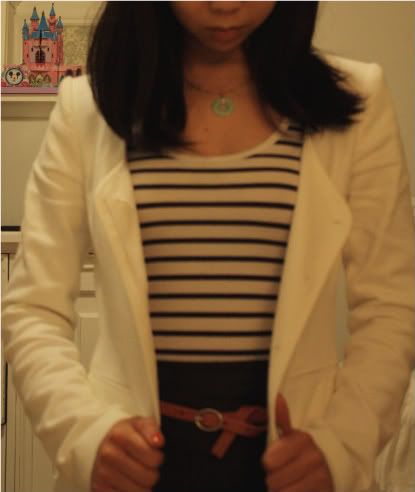 I bought this jacket a few weeks ago and I have been on the wall about it ever since.
The quality is great. It is classic and polished. And the sales lady was so complimentary about how it looked on me. Add the fact that it was on sale, with additional 50% off, plus I had a coupon for another 30% off it made me hold on to it tight and march straight to the counter.
However, once home, I was concerned that it may be too "old" for me. And it is slightly looser than I am used to.

It's slightly difficult for me to find clothes that fits sometimes. I'm not short enough to be "petite" (the size is more accurate, but the placements of things such as buttons always end up in the wrong spot) but am relatively small that usually, I drown in normal size 0 clothes.
It took awhile for me to find an outfit that I liked to go with it. And since then, it became simpler to match.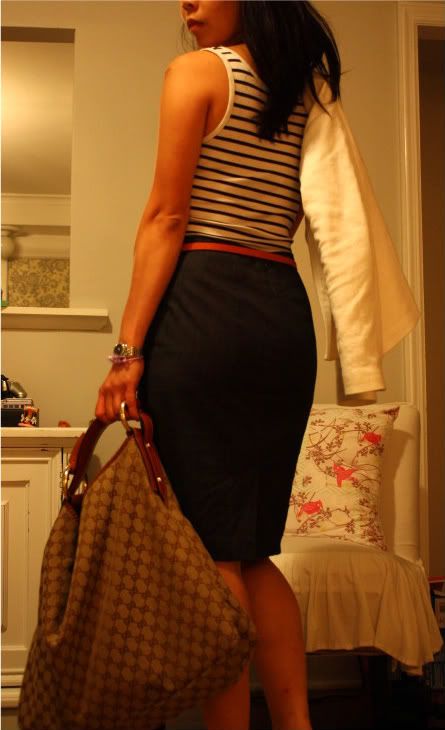 Sometimes, all it takes is a little bit of time and perseverance.
Jacket - Ann Taylor (on super sale - $40)
Tank - H&M ($6)
Skirt - Ann Taylor Loft (30% coupon - $40)
Belt - Banana Republic (sale - $10)
Watch - Guess (From outlet. I've had it for eons! I bought it during my first trip to the US, when we went to visit my brother who was in college, oh, about 14 years ago?)
Shoes - Ann Taylor Perfect Pump (40% coupon)
Bag - Gucci (from outlet)

(Sorry for the pictures' lighting...I got home late from work that day)